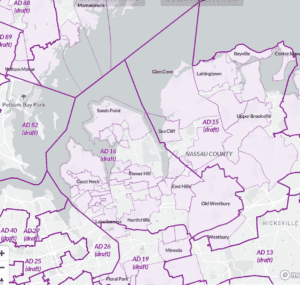 TO THE NASSAU LEAGUE OF WOMEN VOTERS REDISTRICTING COALITION, THE LEAGUE'S REDISTRICTING COMMITTEE & OTHER INTERESTED PARTIES:
Here's more specific information on the deadline for submitting comments, written testimony and/or maps to the NYS Independent Redistricting Commission re the State Assembly district map:
As noted below, there's no clear cut deadline for submissions from the public.
The Commissioners will start to draw their final, proposed version of the map sometime in March.
However, they'll accept submissions from the public until early April.
Per court order, the IRC is required to deliver its proposed map to the State Legislature by April 28th.
This is a statewide undertaking and the Commissioners don't have familiarity with all counties, villages and communities of interest, so are eager for whatever you can provide to educate them.  Of particular interest to the IRC:
Proposed maps from the public.
If you disagree with the district in which a community has been placed, a suggestion as to which district you prefer it be placed.
A recording of last night's NYS Independent Redistricting Commission ("IRC") public hearing for Nassau County on its State Assembly map, held at Nassau Community College, is now available:
New York State Independent Redistricting Commission (totalwebcasting.com)
Their hearing phase ends this evening with a hearing in Suffolk.
 To view the Dec 1, 2022 map:
There's still time to participate!  The IRC acknowledges that the proposed map is a draft.  Input from the community is encouraged in order to fine tune it, including alternative maps and suggestions for specific districts in which you'd prefer a contested area be included.  The deadline for submissions is fuzzy.  We contacted an assistant for a date and were advised there was none.  However, Commissioners will redraw the map "in early March".
We encourage you to participate, as the League did last night!
Karen Moskowitz |
New York League of Women Voters | Nassau County Redistricting Committee