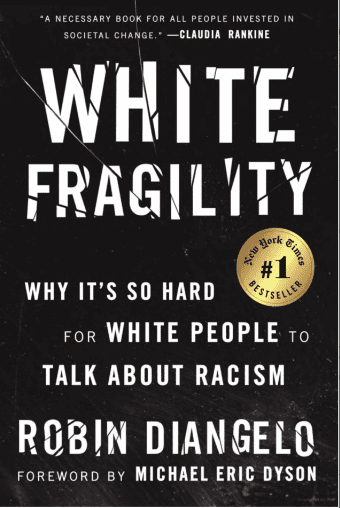 Why It's So Hard for White People to Talk about Racism
L
WV PWM — DEI Book Club
May 12 @ 7pm Zoom —
White Fragility: Why It's So Hard for White People to Talk about Racism by Robin Di Angelo and Michael Eric Dyson (186 pg)
Our goal for our League's DEI Book Club:
to initiate discourse on difficult topics to increase member awareness and to increase member skills in having these conversations.
The LWV US prioritized Diversity, Equity, Inclusion (DEI) initiatives in 2018 for the national and all state leagues.*  Among a number of initiatives, our local league has run book club discussions since December 2020.
Going forward, meetings will be held at 7pm by Zoom on the second Wednesday of each month:
April —Blindspot: Hidden Biases of Good People, Mahzarin R. Banaji & Anthony G. Greenwald (273 pgs.)
May 12 —White Fragility: Why It's So Hard for White People to Talk about Racism, Robin Di Angelo & Michael Eric Dyson (186 pgs.)
June 16 — The Fire Next Time by James Baldwin (128 pgs.)  (Date changed because of LWV NYS Convention)
Book suggestions for future DEI Book Club meetings are welcomed!  Please email them to president@lwvofpwm.org
This month's selection:
White Fragility: Why It's So Hard for White People to Talk about Racism by Robin Di Angelo and Michael Eric Dyson 
"White fragility" refers to the defensive moves that white people make when challenged racially, often characterized by emotions such as anger, fear, and guilt, and by behaviors such as argumentation and silence. Such behaviors prevent productive cross-racial dialogue. The authors examine how this defensiveness develops, how it protects racial inequality, and what we can do to engage more constructively.
Katy Waldman, in reviewing the book for The New Yorker, quotes Di Angelo as saying: "'Like a mutating virus, racism shape-shifts in order to stay alive…The most effective adaptation of racism over time,… is the idea that racism is conscious bias held by mean people.' This 'good/bad binary,' positing a world of evil racists and compassionate non-racists, is itself a racist construct, eliding systemic injustice …."