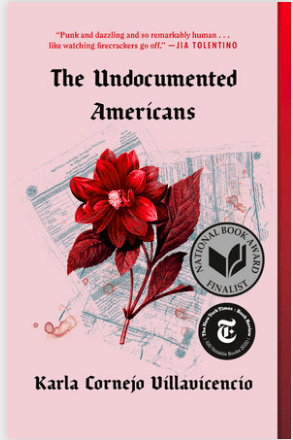 The Undocumented Americans by Karla Cornejo Villacienceo
L

WV PWM — DEI Book Club 
March 10 @ 7pm Zoom — 
The Undocumented Americans by Karla Cornejo Villacienceo  (208 pgs.)
Our goal for our League's DEI Book Club:
to initiate discourse on difficult topics to increase member awareness and to increase member skills in having these conversations.
The LWV US prioritized Diversity, Equity, Inclusion (DEI) initiatives in 2018 for the national and all state leagues.*  Among a number of initiatives, our local league has run book club discussions since December 2020.
Going forward, meetings will be held at 7pm by Zoom on the second Wednesdayof each month:
March 10 —Undocumented Americans, Karla Cornejo Villacienceo (208 pgs.)
April 18 —White Fragility: Why It's So Hard for White People to Talk about Racism, Robin Di Angelo & Michael Eric Dyson (186 pgs.)
May 12 —Blindspot: Hidden Biases of Good People, Mahzarin R. Banaji & Anthony G. Greenwald (273 pgs.)
June 9 —The Fire Next Time by James Baldwin (128 pgs.)
Book suggestions for future DEI Book Club meetings are welcomed!  Please email them to president@lwvofpwm.org
This month's selection:
"Undocumented Americans' by Karla Cornejo Villacienceo (208 pgs.)
The book began as an anonymous article in The Daily Beast, written when Vallacienceo was a college senior on DACA. Although it went viral, years she was well into graduate school before feeling the need to write a book-length work, explaining: "I don't want all of the images of our people during this period to be of us on our knees or in cages. I want this book to also exist as a snapshot of this period in time."
Selected as a finalist for the National Book Award, work chronicles her own immigration story and profiles undocumented immigrants across the United States: the trauma of those recruited to clean up ground zero; the loneliness of day laborers in Staten Island; the challenges of those facing the water crisis in Flint, Mich.; and the role of herbalists and healers in Miami. The stories she tells combine sensitive reporting with powerful personal narratives that reveal the love, magic and heartbreak infusing the daily lives of her subjects.