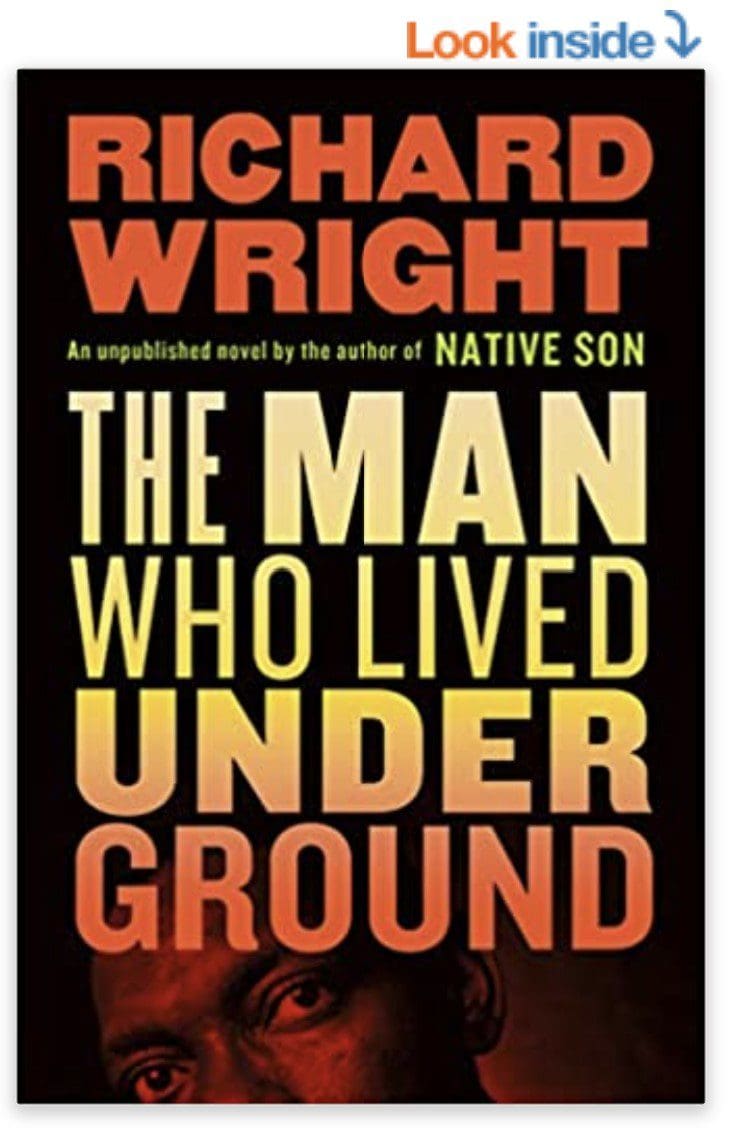 DEI Book Club: The Man Who Lived Underground
The Man Who

Lived Underground
by Richard Wri

ght (240 pages, just published)

From Amazon:

"A major literary event: an explosive, previously unpublished novel about race and police violence by the legendary author of Native Son and Black Boy

Fred Daniels, a Black man, is picked up by the police after a brutal double murder and tortured until he confesses to a crime he did not commit. After signing a confession, he escapes from custody and flees into the city's sewer system.

This is the devastating premise of this scorching novel, a masterpiece that Richard Wright was unable to publish in his lifetime. Written between his landmark books Native Son (1940) and Black Boy(1945), at the height of his creative powers, it would eventually see publication only in drastically condensed and truncated form in the posthumous collection Eight Men(1961).

Now, for the first time, by special arrangement with the author's estate, the full text of this incendiary novel about race and violence in America, the work that meant more to Wright than any other ("I have never written anything in my life that stemmed more from sheer inspiration"), is published in the form that he intended, complete with his companion essay, "Memories of My Grandmother." Malcolm Wright, the author's grandson, contributes an afterword.

From the Atlantic (May 2, 2021)

Though Native Son had been a best seller, Harper rejected The Man Who Lived Underground, its immediate successor. Readers' comments in the archives suggest that the editors might have been deterred by the "unbearable" police violence and an imbalance between allegory and graphic detail. The book opens with a harrowing encounter between decent, respectable Fred Daniels, the protagonist, and three police officers….

It's impossible to read Wright's novel without thinking of this 21st-century moment, when we urgently assert, "Black lives matter." We live with cycles of repeated violence; the terror of Black innocents being killed is all around us and in our consciousness. Starting in the 1940s, Ellison and Baldwin criticized Wright for his insistence on dramatizing this ineluctable subjugation; they saw Wright himself as submitting, in the process, to Black oppression in America. They believed, each in his own fashion, that Black literature ought to capture hope, possibility, beauty, and endurance. Transcendence and, more important, transformation were possible until they weren't. Now the tragic absurdity of Fred's life seems all too familiar. We see it on our screens regularly: the snuff films of white supremacy. Perhaps we have too readily judged Wright's bearing of witness to be reductively stark and fatalistic. What he observed is still happening, despite all those generations of unyielding hope….

Critics will no doubt liken The Man Who Lived Undergroundto Kafka, Dostoyevsky, and Sartre. And the analogies are there in Fred's drive to "assert himself," to act in the face of "death-like" existence. But the novel is also a Protestant work, as much about God as it is about Black people, as Wright himself explains in an accompanying essay about the novel's origins titled "Memories of My Grandmother." In a world beyond understanding and reason, his Seventh-day Adventist grandmother had a religion that imposed meaning on the incomprehensibility of existence. She believed, in accordance with Church doctrine, that right and wrong were starkly distinguished. Strangeness was not to be explored, but simply judged. Guilt preceded assessment: Humans were guilty, and only holiness could save them. In its own way, this fierce Black Protestantism gave psychic refuge to believers but also recommended surrender to the cruelty of the world. In Fred's odyssey, which leads him back aboveground to confess to the crime he didn't commit, Wright has him careen from rage at the pervasive burden of guilt to an embrace of it.

As I read, I was reminded of Lorraine Hansberry's thoughts about Wright's contested literary status. Like her fellow writers, she valued debate over how best to use literature as a tool of social criticism, but she felt that Baldwin's attack on Wright was too harsh—as if Wright had to plummet in order for his own star to rise. She disliked the pleasure that white critics took in this literary patricide. In her view, very few American writers could match Wright's skill and style.

Wright deserves sensitive reconsideration, especially now that so many of us have been proved naive in our belief that an honest rendering of Black people might lead to recognition of our existence in the universality of humanity. …

Wright tells an old story that still lives. His Fred carries the name of our most famous Black fugitive, the abolitionist writer Frederick Douglass, and he travels underground in ways more reminiscent of the Underground Railroad than of Dostoyevsky. He finds himself encountering the world, unfiltered by established terms of order, and acquires a tenderness for all people. In the end, his Black existence presents a particular window and a universal predicament—and a reminder: Surrounded by ghastly forces every day, we destroy life with our many idolatries and illusions.
If you have not previously joined one of our book clubs, email president@LWVofPWM.org