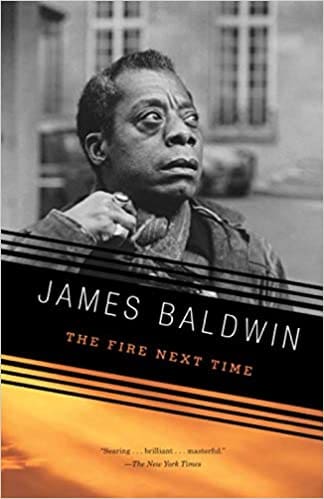 The Fire Next Time by James Baldwin
L
WV PWM — DEI Book Club
June 16th @ 7:30pm Zoom —
(Note the change to June 16th to allow full participation
in LWV NYS Convention week)
Written in honor of the centenary of the Emancipation Proclamation, these two essays, one a letter to Baldwin's 14-year-old nephew, and one that explores the relationship between race and religion, have been acclaimed for 60 years; they "galvanized the nation, gave passionate voice to the emerging civil rights movement—and still light the way to understanding race in America today." Unusually, Baldwin writes for both Black and White readers, exhorting them to attack the terrible legacy of racism.
The book's title comes from an African American spiritual often sung during the Civil Rights era, "Mary Don't You Weep": "God gave Noah the rainbow sign/ No more water, the fire next time."  Oprah Winfrey considers it one of her seven favorite books that "help me through." Nobel Laureate Toni Morrison and Maya Angelou credited his work as inspiring their own literary endeavors. Ta-Nehisi Coates describes The Fire Next Time as ""Basically the finest essay I've ever read. . . . Baldwin refused to hold anyone's hand. He was both direct and beautiful all at once. He did not seem to write to convince you. He wrote beyond you."
Not simply a classic of literature, this work remains one of our most influential books about race relations, a "sermon, ultimatum, confession, deposition, testament, and chronicle…all presented in searing, brilliant prose" (New York Times Book Review). Besides a host of honors during his life for his essays, poetry, novels, plays, and short stories, his Upper West Side residence has been given landmark designation by New York City's Landmarks Preservation Commission; his name has been inscribed on the Stonewall National Monument as one of the inaugural fifty American pioneers, trailblazers and heroes; and in 2019, the City of Paris voted unanimously by all political groups to honor him, giving his name to the first media library, scheduled to open in 2023.
Our goal for our League's DEI Book Club:
to initiate discourse on difficult topics to increase member awareness and to increase member skills in having these conversations.
The LWV US prioritized Diversity, Equity, Inclusion (DEI) initiatives in 2018 for the national and all state leagues.*  Among a number of initiatives, our local league has run book club discussions since December 2020.
Going forward, meetings will be held at 7pm by Zoom on the second Wednesday of each month:
July 14  — The Man Who Lived Underground, a novel by Richard Wright
August 11 — TBD
September 8 — TBD
Book suggestions for future DEI Book Club meetings are welcomed!  Please email them to president@lwvofpwm.org
LWV US Reading, Resources, and Webinars on DEI topics can be accessed here at LWV.org Diversity, Equity, and Inclusion Resources