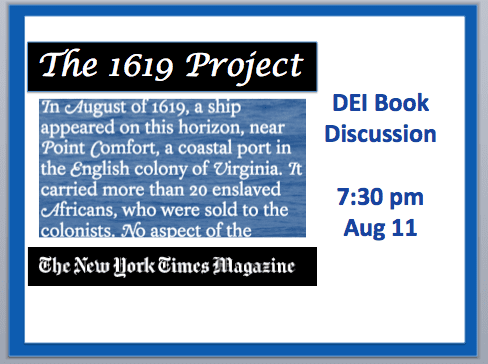 DEI Book Club: The 1619 Project
The news and opinion pages are filled with references to "The 1619 Project."  But what is it? Why is it getting so much attention?
The 10 articles, photo essay, and 15 original poems and stories were published on August 14, 2019, on the 400th anniversary of a slave ship arriving at the English colony near Point Comfort, Virginia.  The essays offer historical analysis centered on how slavery shaped the experience of Amrican politics, society, and ecnomy while the short literary works each respond to a meaningful event.
The response to the initial 100 pages has been wide-ranging, spawning a podcast, an upcoming book, and a modules to enrich secondary and college curricula. The Pullitzer Center has spearheaded curricular activities inspired by the 1619 Project.
The NY Times reporter who led the effort, Nikole Hannah-Jones, who won a MacArthur Genius Award in 2017, for her reporting "Chronicling the persistence of racial segregation in American society, particularly in education, and reshaping national conversations around education reform." She won a Pullitzer Prize for Commentary for her work leading the 1619 project.
The Project has also spawned controversy in the mainstream media, but our discussion will initally focus on the 100 pages originally published two years ago — what's new? what's uncomfortable? what questions are answered by the work? what questions does the work provoke?
We will take as our jumping off point, two quotes the discussion group focused on when reading James Baldwin's The Fire Next Time:
"To accept one's past—one's history—is not the same thing as drowning it it; it is learning how to use it. An invented past can never be used; it cracks and crumbles under the pressures of life like clay in a season of drought."
"You know and I know that the country is celebrating one hundred years of freedom one hundred years too soon. We cannot be free until they are free."
While the articles are available at NYTimes.com, it may be easier to read them on the two files available here: File A (65 pages) and File B (36 pages).
If you have not previously attended a LWV PWM DEI Book Club, email president@LWVofPWM.org for an invitation.