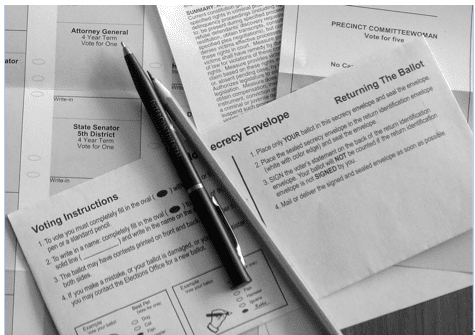 Concurrence Meeting: LWV US Electoral Position
Concurrence Meeting: LWVUS Electoral Position
Wednesday, May 5, 2021 – 12:15pm to 1:45pm
The May 5th Meeting will include
About 30 minutes of education, focused on member Q&A
A maximum of an hour, using the consensus process to determine whether our league concurs with the National League position on electoral systems
The Education session, led by Joe Maissel, the LWV PWM Chair for Electoral Systems, will respond to questions from members about the Education Packet available below, and any other questions about this concurrence:
— lays out the LWV US Position on Electoral Systems, pros/cons, LWV positions around the country, along with LWV positions and advocacy for RCV, subsumed and governed by the national position (27 pages, including a glossary)
The 5 most important pages to read are
pp.1-4  Goal of our concurrence: do we concur with the LWVUS Position?
p.7,  Pro/Con on concurrence
pp 13-15, descriptions of the 8 criteria in the US position
p.22 LWV Vermont pro/con on RCV  
and the explanation for any term unfamiliar to you in the glossary, pp.24-27.
The LWV US adopted its current position on Electoral Systems at the 2020 National Convention by concurrence with 14 state leagues.   Delegates at the national convention recognized the value of sharing a single national position, which had already been tested by numerous state and local Leagues in advocating for and achieving meaningful  election reform in their own jurisdictions.
Because LWV NYS does not (yet) have a position on electoral systems, this concurrence would only affect reform at our local level. If the LWV PWM concurs with the LWV US position, we will begin the process of joining with other local NYS leagues to advocate for LWV NYS adopting the US position — to enable League advocacy for electoral reform at the state level. This will become increasingly relevant (and potentially urgent) as we move forward on redistricting,
The Zoom link for the May monthly meeting will also give entry to the Concurrence meeting,   To ensure you receive the link, you can register for the Concurrence Meeting here.
We will reach consensus by bringing individual perspectives to this discussion and engaging with our fellow members to seek common ground together.  An honored tradition, the League sees consensus as a "sense of the group": not unanimity or a majority, and not reached by voting or polling — it is a shared perspective achieved by active listening and engagement.
Concurrence is a League process in which members decide if they agree with a statement or position that another League or League committee has already adopted.  The position itself cannot be changed during the concurrence process.
In this case, we will seek to reach general agreement (consensus) with each other, in a discussion about whether we concur (agree) with a national league position. Note: the national position does not favor specific legislation nor specific electoral systems (other than favoring alternatives to plurality voting that are more representative and inclusive). Its purpose is to guide League decisions in evaluating legislation, i.e., whether to advocate for or against specific bills.
given to the LWV PWM Board at its April meeting, prompted the call for concurrence. Available here are the 17-minute video and PowerPoint deck presented by Joe Maissel, and a 2-minute "explainer" video on RCV produced by the Minneapolis Board of Elections). These materials provide information on RCV, which will not be part of the concurrence discussion, but will become matters of discussion within our league, following concurrence, as redistricting and election reform take center stage.
Members who RSVP (Register by clicking HERE) will receive emails to give them access to the Concurrence Meeting. If you are not a member and wish to join, you can join on our website. If you are a member and have questions about this meeting, please email president@LWVofPWM.org